Tips For Camping With Your Dog
Camping with your dog is one activity you will both love. It's a chance to get away from our busy lives, take a breath of fresh air and see some nature and beautiful scenery. It is also a good chance to spend some quality time with your dog, not to mention it's just fun!
Camping allows your dog to experience new activities and get some exercise. Spending time outdoors together will increase your bond with each other and it even helps your pooch learn to trust you more. These things will benefit your dog's physical and mental health.
Safety First While Camping With Your Dog
Safety should always be a priority when going to a new unfamiliar place with unknown dangers. Make sure you bring a well-stocked dog-friendly first aid kit. Here are a few things that you should be aware of.
1. Overheating
You need to watch out for overheating. Make sure you have cold water available. Try to be in the shade during the hottest part of the day and save the physical activities for in the morning or evening when it starts to cool down. Keep an eye on how your dog is doing if you are out in the sun for a long time.
2. Water
Keeping your dog hydrated is not only to prevent overheating. Dogs just need more water if they are spending lots of time outside. On normal days an adult dog needs one ounce of water for each pound they weigh so plan on more than that for each day of your trip. Keep the water in a bowl in the shade so it doesn't get too hot. It's also a good idea to bring a dog water bottle that you can take with you when you are on the move.
3. Protect Their Paws
There may be hot pavement, sharp rocks, ticks, even cold and wet ground that can be harmful to your pooches' paws. So beware of this possibility and if you want, get them some little booties to wear. If you get the booties make sure you let your dog get used to them before your trip. 
4. Emergencies
Make sure you know where the closest emergency services are for your dog so if something happens you know exactly where to take them. 
Before Camping With Your Dog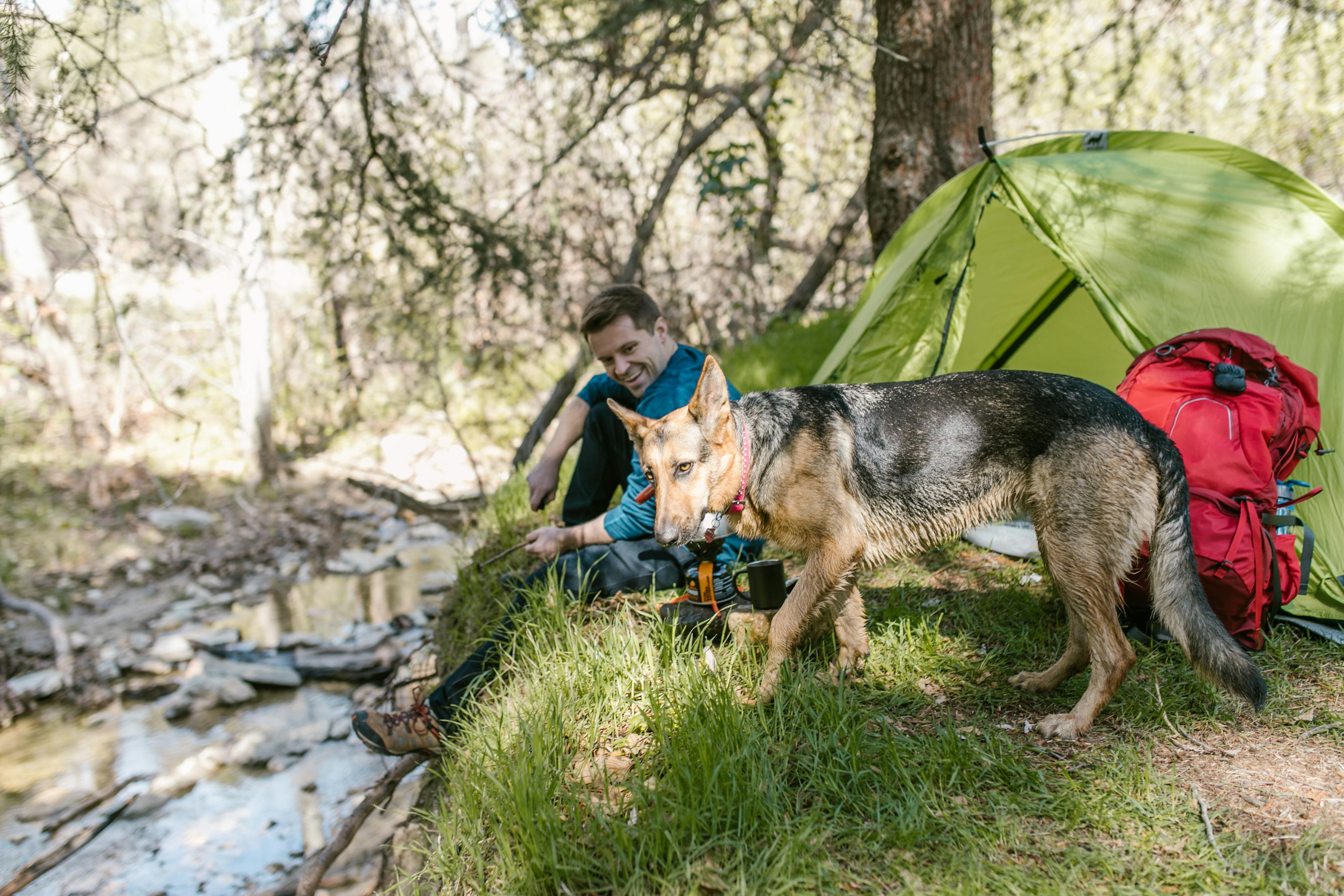 Your dog will experience a lot of new things so you need to be prepared to handle every situation so your dog stays safe and comfortable. They will be exposed to new environments, long car rides, other animals, and possibly a large group of people in your campground.
5. Call Ahead
If you are going to a campground, you need to call ahead and make sure it is pet-friendly and find out their pets' rules and policies. One thing you should ask about is leashes. Some campgrounds have rules about the type of leashes allowed for example only six feet long and no retractable leashes. These leash rules are to keep all campers and pets safe.
6. Barking
We all know that dogs bark and most likely this won't be a problem but it's good to be aware that some campgrounds will ask you to leave if your dog barks excessively and through the night.
7. Gear
Having good gear can make your trip a breeze. A couple items you might invest in are reflective harnesses if you're planning on being out or going for walks after dark and a special swimming leash that floats in the water.
8. Dog-friendly Amenities
Some campgrounds come with dog-friendly amenities that will help keep your dog entertained. So you might want to search those out when you're looking for a place to camp.
9. Vaccines
Before going on your trip make sure your dog is up-to-date on its vaccinations. Lots of campgrounds require it. 
10. Flea and Tick Prevention
Fleas and ticks are common in the outdoors so it's a good idea to have your dog on a form of flea and tick prevention. It is something you can talk to your vet about.
11. Microchipped
If your dog does not already have a microchip now is a good time to get one just in case your dog runs off or gets lost. It's also a good idea to have a picture with your dog's unique features visible as well. And even if you have a microchip, you should make sure your dog has a good ID tag on them with information on how to contact you and you could even list your campsite number. 
12. Allergies
If your dog is sneezing, itching, or looks like they have an ear infection it might be a sign of allergies. The best way to deal with allergies would be to talk to your vet about treatment options before your trip.
13. Groomed
Your dog should have trimmed nails to keep them from snagging on things and a haircut to keep them cool. It may seem silly to groom them before they are about to go out and get dirty but they will be safer for it.
14. Aggressive Dogs
 If your dog is aggressive in situations involving new unfamiliar surroundings and strangers, it might be best to leave them home if you are going to a populated campground. 
While Camping With Your Dog
15. Don't leave your dog alone
Make sure whatever you are doing or wherever you are, you are keeping an eye on your dog. You know how your dog reacts to other people and animals but there is no way to know how another person or dog will act when they see your dog. And unfortunately, dog theft is a real problem these days. Check this article to learn more about protecting your dog from dog thieves.
16. Activities
This tip for camping with your dog is important. You don't want to have your plans ruined when you show up with your dog to a place they are not allowed. So you should make sure your planned activities are dog-friendly. Not all places allow dogs. For example, some national and state parks, beaches, shopping centers, and even some hiking trails don't allow dogs. 
17. Toys
If you are planning on spending a lot of time relaxing around your campsite you will want to bring some toys to keep your pup entertained. Outdoor-safe toys like tennis balls and rope toys are the best. Toys will also be a good idea if the weather gets bad and your dog can't roam around. 
18. Wildlife and Plants
Make sure you know what kinds of wildlife and plants you might encounter in the area of your campground and hikes. Watch out for poisonous plants so your dog doesn't try to eat or touch them. Be cautious about the water your dog drinks if it's stagnant or contaminated with blue-green algae it is not safe to drink. 
Source: Thanks to KOA.com
Comment below if you have any more tips to add for camping with your dog!